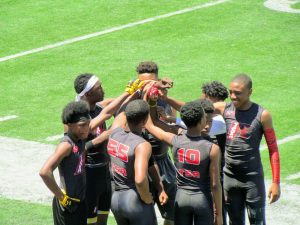 The T.A.C.K.L.E. Sports Academy was established in 2014 with the mission of equipping young people with the tools and traits required to succeed in the future by instilling the core values of Honesty, Discipline and Dedication in tandem with the core principles of Teamwork, Sportsmanship and Personal Accountability. Our organization places particular emphasis on scholastic achievement and behavioral compliance both on and off the field of play.
As the first and, at the time, only team accepted into the Mid Maryland Youth Football and Cheer League from Baltimore City in 2014, the Blitz enjoyed a successful inaugural season before merging with the NorthEast Hawks in 2015. Forming the TSA Hawks, the organization went on to participate in the Maryland Youth Football League, fielding highly competitive teams and winning State Championships in several age groups by the end of the season.
Now a member of the Grass Roots Youth Football League, the T.A.C.K.L.E. Sports Academy continues to provide the wholesome, enjoyable experience of playing football for 6th — 8th graders, while teaching the basic fundamentals of the game, teamwork, good sportsmanship, discipline and response to leadership.
Seeking to further expand our ability to reach and positively affect the lives of young people, in 2018 our organization has joined forces with the prestigious Concordia Preparatory School Saints in Towson, Maryland to form the Blitzing Saints football team.
As we endeavor to make a positive and indelible impact in the lives of our student-athletes, the leadership of the T.A.C.K.L.E. Sports Academy will continue to emphasize our declaration that,
"Talent can take you but so far, however hard work and perseverance will lead you to Greatness!"